EIT Health – health innovation community, which covers a broad network of partners in Europe. It seeks to solve the most relevant challenges of healthcare by gathering the brightest minds and developing innovation. In Lithuania, EIT Health Hub is managed by Kaunas University of Technology (KTU) and Lithuanian University of Health Sciences.
EIT Health Hub Lithuania has organized more than 30 initiatives, in which more than 2400 participants were involved. Since 2018. Initiatives has provided informational and financial support and mentorship for the start-ups and researchers in the field of healthcare, were serving as networking platform.
The spectrum of initiatives is broad:
Health Innovation Academy – each year is dedicated to analyse, comprehend and discuss one of the healthcare topics. Development of healthcare innovation was the focus of 2021, artificial intelligence in medicine – in 2020, rehabilitation in 2019.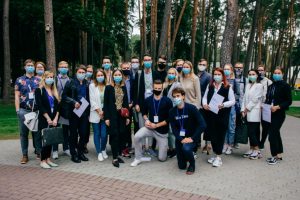 Participants of Health innovation academy 2020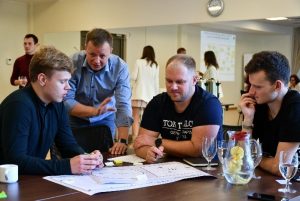 Health innovation academy 2021 activities
Hackathon Hospiton – a joint activity of KTU and LSMU, which brought +220 talents from different studies areas since 2018. During the first hackathon in 2019, around 20 innovative ideas were created in the rehabilitation area. In 2020 the topic of the hackathon was pharmacy and hackathon participants were developing digital health ideas on 2021.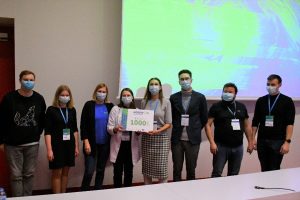 Hospiton 2021 winners – team "Hello, dentist" creating an online platform for quick and easy registration with dentists and accessibility to dental data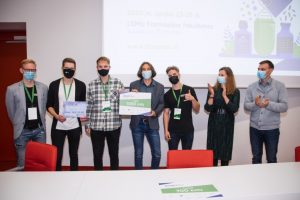 Hospiton 2020 winners – team Medfast proposing to set up mobile medicines collection points
More than 40 innovative health solutions from Medtech, biotech, and digital health areas presented in Technorama innovation exhibition health care track. Visit 2021 and 2020 virtual Technorama exhibition.
Training and workshops program Smart-up Lab with the prize fund of 10k euros in 2018.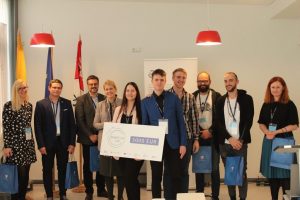 Participants, jury members and organisers of Smart-up Lab
"Morning health Talks" – networking and breakfast meetings of Lithuania healthcare innovation ecosystem leaders organised couple times per year. Meetings are aimed at to establish and strengthen relationships between the local stakeholders and EIT Health.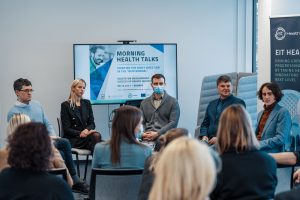 Panel discussion "Strengthening innovation ecosystem -what can we do now?" during "Morning Health Talks: Ecosystem development – key to success of health industry" on December 2021